Grilled Eel Over Rice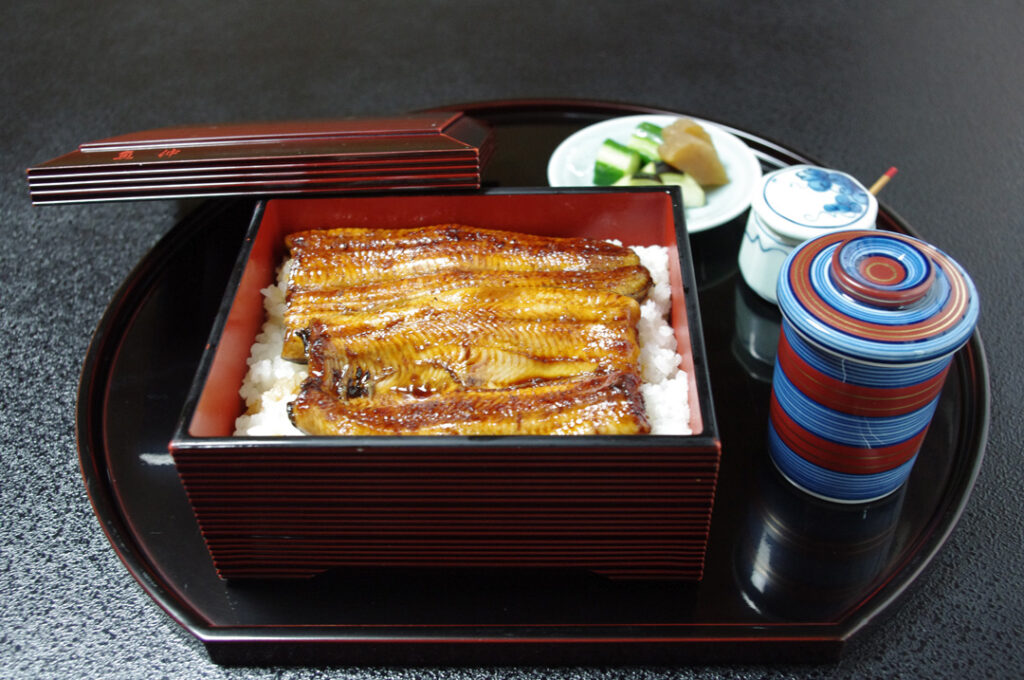 We only serve domestically-produced Japanese eel, grilling the plump meat with a savory sauce that has a hint of sweetness.
[ The Midsummer Day of the Ox ]
This day is part of Japanese food culture where people eat eel for stamina on the first midsummer day of the ox (usually around late July). There are various story claims that when Hiraga Gennai, a scholar of Western sciences, placed a sign that read "Today is the Midsummer Day of the Ox" on the storefront of an eel shop that was lamenting a lack of sales, sales went up greatly.
3,850 yen~
Course Meal with Grilled Eel Seasoned with Salt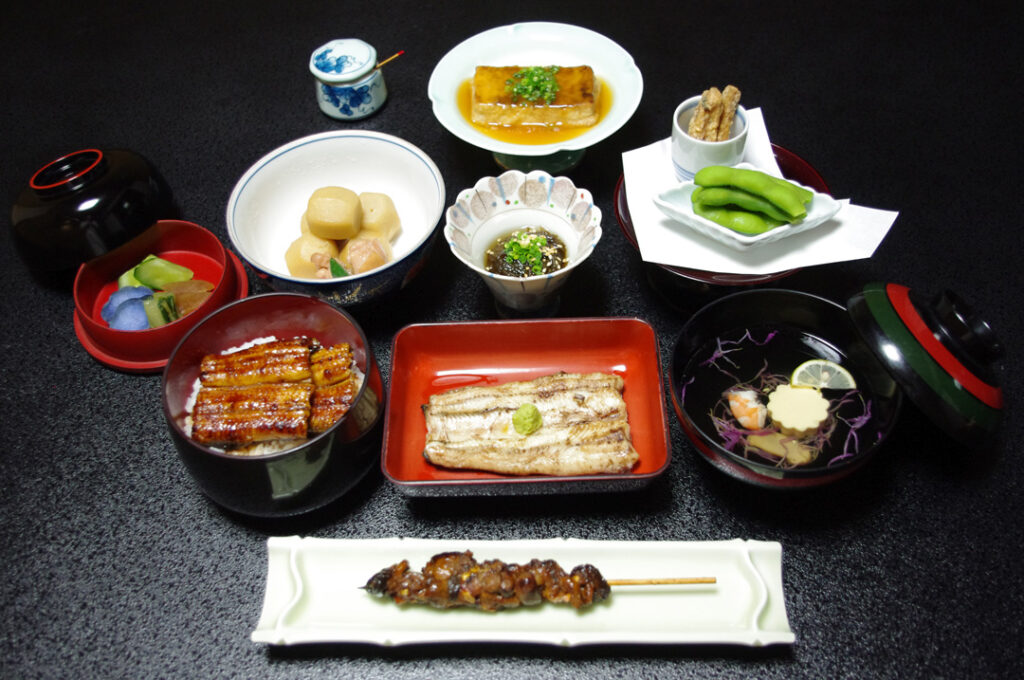 This is a popular dinner party course.
Please enjoy the clean taste of the grilled eel with some wasabi and soy sauce.
5,500 yen~
Sample of Other Menu Items
We serve Japanese cuisines that use ingredients that suit the seasons and functions in Japan, as well as use cooking methods that represent each season.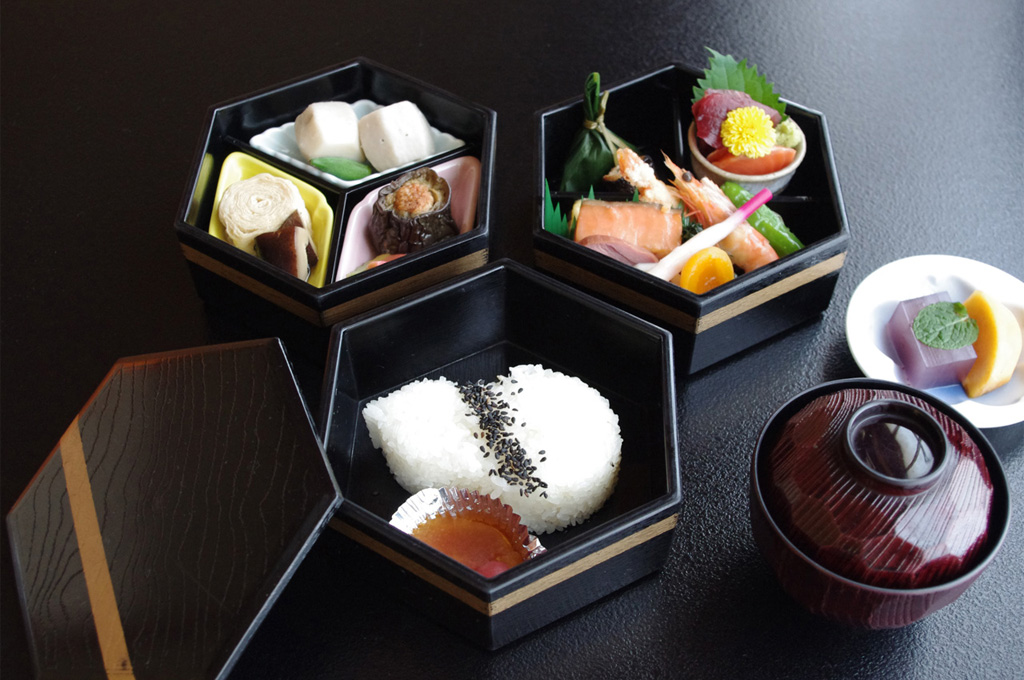 Hexagonal Three-Tier Bento Box
A beautiful bento box meal that looks like a small box packed with jewels which is popular among female guests.
2,200 yen~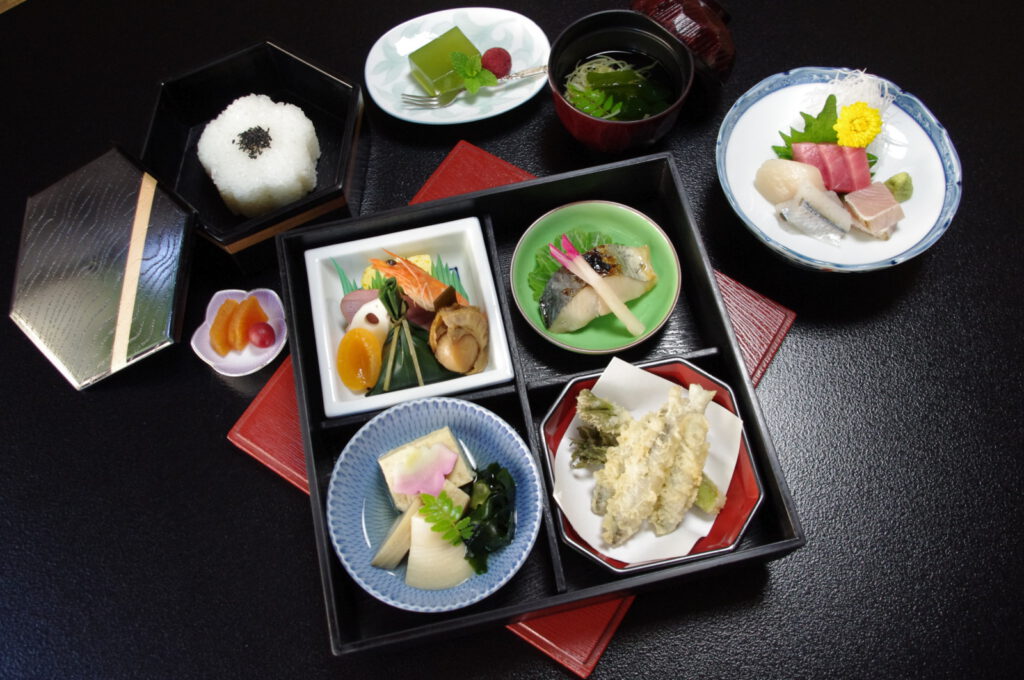 Various Bento Boxes
Pictured is a 3,300 yen bento box kaiseki multi-course Japanese meal.
Meals packed in wooden boxes are also available, and delivery is a popular option as well.
1,620 yen~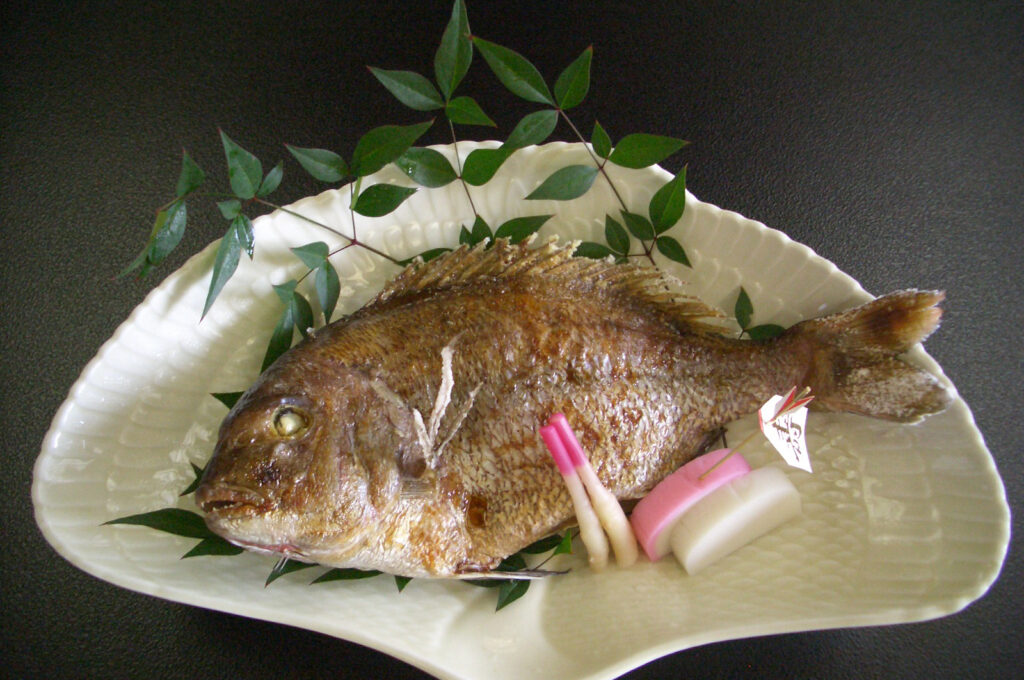 Grilled Red Seabream (Reservation Required; Market Price)
Why not add some flair to special occasions such as a birth of a child, a weaning ceremony, an engagement, or milestone birthdays with this dish?
3,240 yen~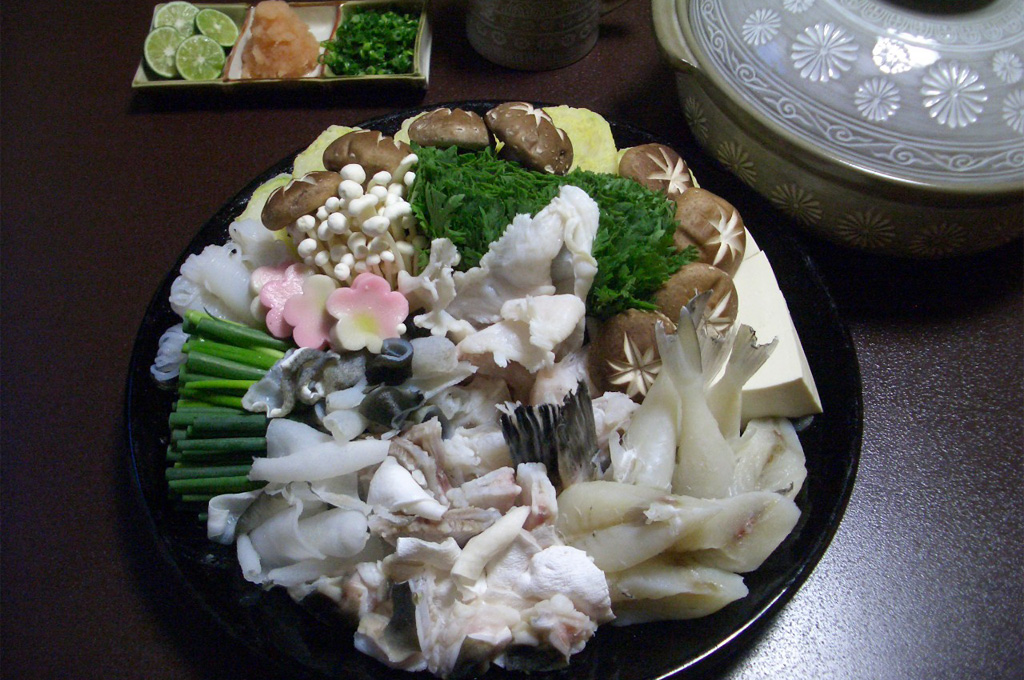 Puffer Fish Course Meal (Served Only in Winter)
Hot pot dishes are available upon reservation. We will prepare hot pot dishes to your liking, such as a mixed hot pot, anglerfish hot pot, sukiyaki, and shabu-shabu.
11,000 yen~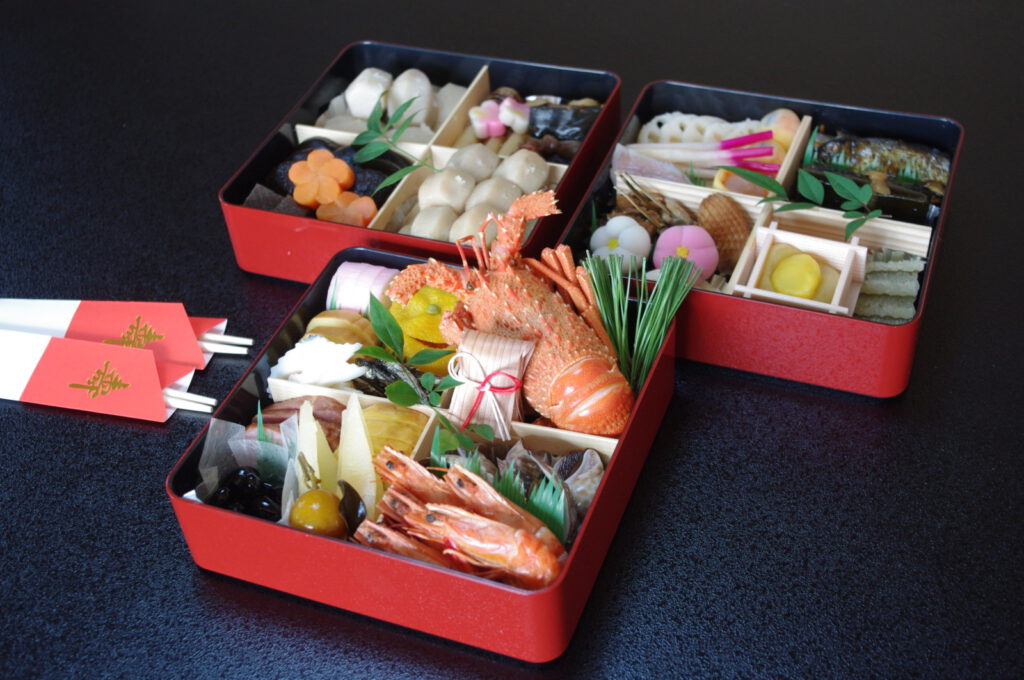 Traditional Japanese New Year Dishes
Available only at the end of the year; reservation required.
Osechi are traditional Japanese New Year dishes, with each dish symbolizing a wish for the new year.
| | |
| --- | --- |
| Shrimp | Symbol of long life for its bowed back |
| Herring Roe | Fertility and being blessed with children |
| Burdock Root | Living a long, frugal, and happy life |
10,800 yen~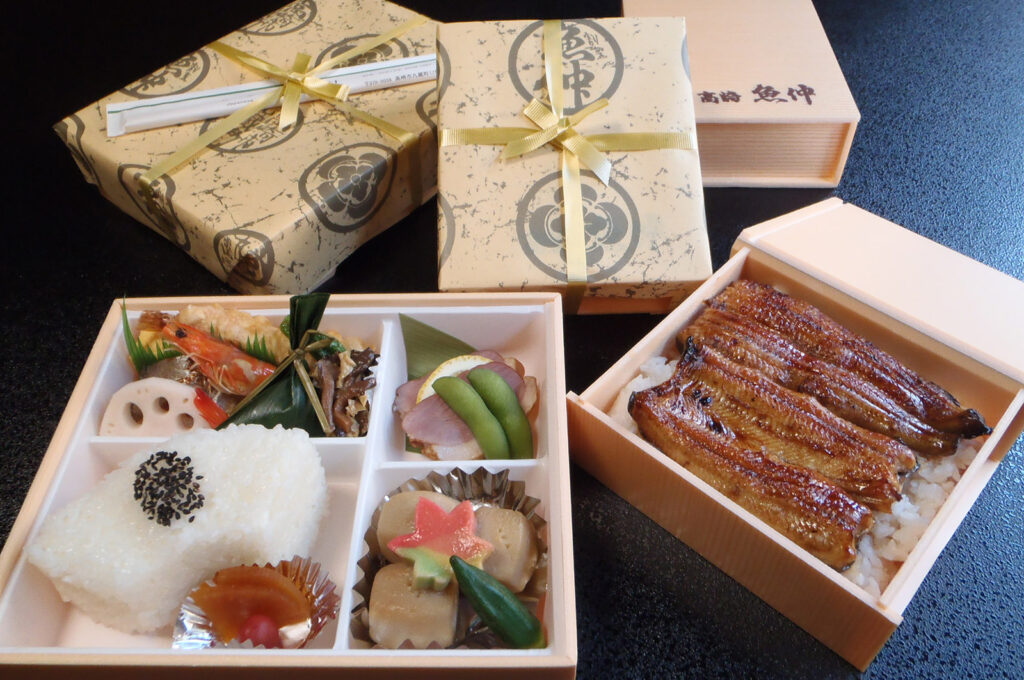 Take Out
Take out will be served in a disposable container.
Please use take out for meetings or as a souvenir.
Delivery is also available, so please contact us for details.
*Fish (including eel) will be market price due to there being sudden increases in costs. We ask for your understanding regarding changes in price.
*We also serve a "Konnyaku Kaiseki Multi-Course Japanese Meal" which uses a just the right amount of konnyaku, a Gunma regional specialty. (reservation required)
*Dinner parties will incur a separate cover charge and service charge.
*Please feel free to contact us about planning a meal within a budget.
*The images and menu are for illustrative purposes only and are subject to change according and stock.
Kouzuke (Fish Pickled in Sake Lees)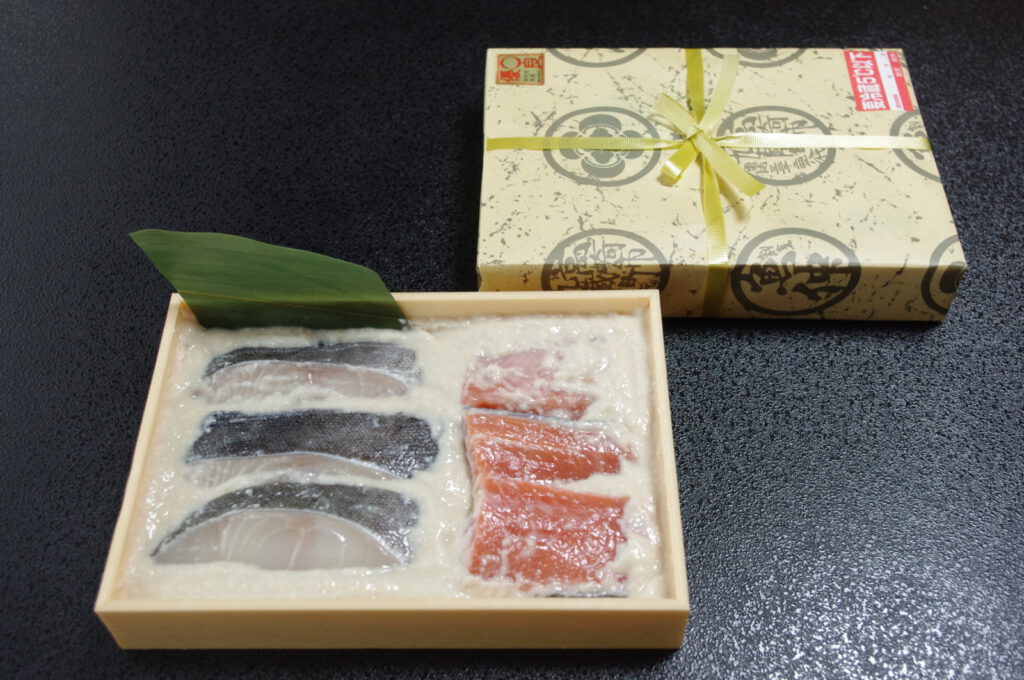 An original souvenir item available year-round.
Gunma was once called "Kouzuke no Kuni" (Land of Kouzuke), so we named our product "Kouzuke" out of fondness for the place we call home.
We pickle hand-picked black cod and salmon pieces in a Uonaka original blend mixture using sake lees from Gunma.
This product is free of preservatives and chemical additives.
Lightly rinse the fish with water and grill thoroughly on low heat.
Please enjoy the dish's rich aroma and flavor.
Kozuke (Fish Pickled in Sake Lees)
[3 pieces of salmon and 3 pieces of black cod: 3,240 yen]
Special Selection Kozuke (Seafood Pickled in Sake Lees)
[3 pieces of salmon, 3 pieces of black cod, amadai tilefish, scallops, etc.: 5,400 yen]